In today's society, individuals are greatly influence by celebrities and social media. Specifically addressing women, they get a lot of their style and makeup influences from celebrities on Twitter, Instagram, and YouTube. The makeup industry has grown a lot since social media has taken over the lives of young women, and companies are taking advantage of this time. However, the makeup brands status has a lot to do with how successful the brand will be. For example, an established make up brand like Covergirl and Maybelline don't have to work as hard because they've been in the game for a while, and have an established product. So, when a new makeup brand is being produced the overall image is vital, specifically who's behind the image.
            Rihanna is multimillion dollar R&B music artist, and she has been in the music industry for 11 years. Her most recent album "ANTI" went 2 times platinum in America, and created a lot of buzz around her name. She also had business endeavors with the clothing brand Puma, she created shoes and clothes that became extremely popular in pop culture. All in all, this was the perfect time for Rihanna to release a makeup line. She had the face, the name, and the support to be successful in the makeup industry.
            When creating a new makeup line, it is important to do something that no other make up brand has done before in order to catch the consumers attention. With Rihanna's line this was easier because, she is Rihanna. Rihanna is an established woman with a huge fan base so, since she is the one selling the product and, her name is on the product people are going to buy it. This is critical because, although her makeup is made through the Kendo brand (a company that produces makeup), it is still her own company, not just her face on a random brand. Furthermore, this Kendo company has partnered with other very successful cosmetic brands like Marc Jacobs and, Kat Von D. This gives a sense of ethos to the consumer. Since Marc Jacobs and Kat Von D have both used the Kendo company to produce makeup for their lines 
and have been successful, then Rihanna using this same brand means it going to be of similar quality. Another way ethos was used in creating Fenty Beauty was her makeup being sold in Sephora. Sephora is a huge retailer that sells mostly makeup, but also skincare and fragrances. Sephora sells high end makeup that a lot of makeup artists use and, is the most popular makeup store. Rihanna putting her line is Sephora also provides ethos to the consumer because, Sephora doesn't put just any brand in their store.
            Rihanna came out with a commercial for her cosmetic line, Fenty Beauty, that broke the internet and quickly became the hottest topic on social media. The Fenty Beauty commercial was a very powerful simple piece that left people wanting her line. Rihanna did a few key things when producing this commercial. The first, was having a group of diverse females in the commercial wearing her makeup. Rihanna had a Muslim girl (hajib and all), an Asian girl, several black girls with different skin tones, a white girl, and a Hispanic. This got the attention of individuals because it showed that Rihanna cared about every woman of every color being able to wear her makeup line. Consequently, Rihanna used pathos in this commercial, appealing to the consumer's emotions. A lot of makeup lines don't have a lot of shades for specifically women of different colors, Rihanna having a Muslim, a lighter toned black girl, and a very dark black girl in her commercial demonstrated that all of these colors will be available in her makeup line. It was powerful because she did something no other makeup line had done before in a commercial, she showed that every skin tone mattered to her in making her cosmetic line.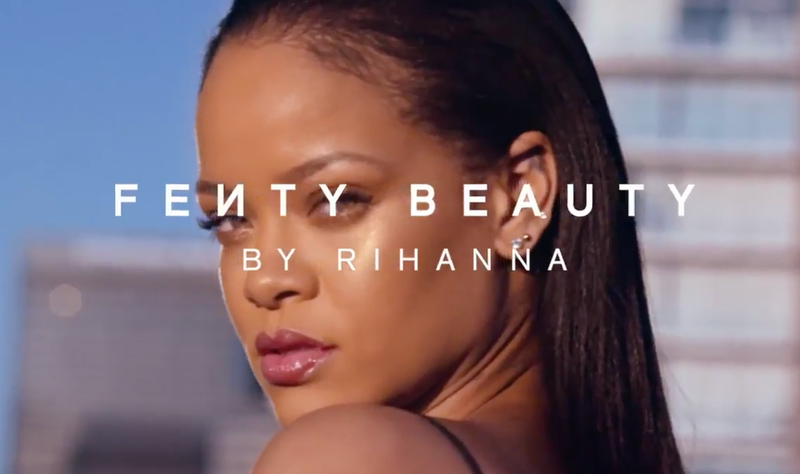 The second key thing Rihanna did in her commercial was play loud up beat music throughout the entire commercial. The models in her commercial were walking through the streets of an urban city with this loud upbeat music playing. This made the women look powerful, and played to the emotions of the consumer. Seeing powerful women in a commercial will make women at home also feel empowered. This is another use of pathos; if women at home feel empowered by watching this commercial they are going to want to buy this makeup. The Purdue Online Writing Lab, a great tool English students can use when writing, has a page dedicated to rhetorical devices. On this page the website states, "Emotional appeals can use sources such as interviews and individual stories to paint a more legitimate and moving picture of reality or illuminate the truth". This is what Rihanna did in her commercial she created a moving picture in using diverse models to show that diversity played a role in the making of her makeup brand.
The last thing Rihanna did in her commercial that was key to winning over her consumers was putting herself in the commercial. In the middle of her commercial a poster of her makeup line was on a wall; on the poster was her face and the name of her makeup line Fenty beauty. This provided a sense of logos, all of the models faces were beautiful because they were wearing Fenty Beauty. Lastly, at the very end of the commercial Rihanna was standing next to the women. In doing this Rihanna was showing she was one with these women, Rihanna is ethnic, and identifies with their diversity. This also shows that Rihanna is also wearing Fenty Beauty on her face, which made her face look exquisite. Logically the consumer sees, if all of these different colored models are wearing Fenty makeup and looking beautiful then, Fenty Beauty  will have their shade and make them look beautiful as well.
Rihanna having 40 different shades available to women is important because, that means more people will be able to purchase her product. Most makeup brand don't have a very diverse set of foundation shades for women of different colors. For example, the makeup brand Covergirl's Tru Blend foundation only has 21 shades. This limits the amount of consumers that can purchase this product. Also, consumers may buy the product in a shade that's not theirs in hopes it will work and not be 100% satisfied with the end result. On the other hand, that same consumer can select one of the 40 shades provided by Fenty Beauty and find a match and, be satisfied with the result.  Rihanna creating this competition is important because her brand of makeup is new and, she needed an edge that other established makeup companies did not have.
Rihanna created a makeup line suitable for all women of all shades and, she did what had never been done before. Rihanna really influenced individuals with her first official commercial for Fenty Beauty, the audience seeing a culture that they could all identify with really made them feel like Rihanna was directly creating makeup for them; or cared enough to create more shades that would match them. Rihanna also created more videos featuring her makeup line on her YouTube channel. YouTube has become very popular over the last couple of years. A large and diverse audience watches YouTube for also sorts of things like, education and entertainment. Since YouTube is a new big platform it was a smart of Rihanna to create videos on her YouTube channel about her makeup line. YouTube is much more personable and gives consumers the feel of bring closer to Rihanna. One of the videos on YouTube showed Rihanna using her own makeup and demonstrating how to use each product. This provides a sense of pathos and ethos because when Rihanna was putting on her makeup it had a friendly tone like as if she was teaching one of her friends how to use her makeup line. It also provided ethos because she is Rihanna showing her audience how to use her own makeup which makes her credible. In this video, it also provided snippets of other women putting on Fenty makeup and, they were all diverse. Rihanna consistently includes herself in her make ads and includes diverse women.
All in all, Rihanna was the perfect celebrity woman to create her own makeup line. Her life has been shown in the media, and her audience knows a lot of the struggles she has faced, she has rose from her adversities and maintained success. Rihanna is the perfect speaker to an audience of women from all different ethnicities and backgrounds. Although the rhetorical devices used in her commercials and ads are identifiable, coming from Rihanna they have a genuine feel. She did create 40 foundation shades for women, she is an ethnic woman, and there is evidence throughout her career that supports her character. Rihanna touched women globally with her brand Fenty Beauty, and she continues to inspire women every day.
Annotated Bibliography
"Fenty Beauty by Rihanna | About." Fenty Beauty, http://www.fentybeauty.com/about-fenty.
This source is the actual website of the brand I am using in my essay. The website provides different aspects and features of the brand. It also as the video ad that I will be referring to in my essay. This website has pictures and textual evidence I will use in my essay to demonstrate the rhetorical devices being used.
Kryzhanivska, Halyna."The Media Genre of the Personal Account: Rhetorical and Linguistic Construction of the Socio-Cultural Setting." Brno Studies in English, vol. 43, no. 1, Jan. 2017, pp. 33-52. EBSCOhost, doi:10.5817/BSE2017-1-2.
This source provides information on how media has a great influence on the minds of women. It digs into how women's magazines and ads are the most popular. This can be used in an essay because my ad pertains to women and getting the attention of women. So, this article will help support my essay in providing more background on how rhetoric is used in media to attract women.
Welcome to the Purdue OWL." Purdue OWL: Establishing Arguments, owl.english.purdue.edu/owl/resource/588/04/.
 This source provides more information on different rhetorical devices that can be applies into my essay. The website gets into different fallacies and several of those fallacies I will use as support in my essay. Also, the website goes over ethos, pathos, and logos, this I will also use to show how the ad I'm using appeals to the consumer emotionally, logically, and credibly.