For the past two years, I've had an ever long issue of enjoying my own company. I always relied on others for a good time and can never be independent. It got to the point where it began affecting my relationships. I did not know solitude. I always felt that I was alone when in truth, I was not. I immediately saw it as a problem when I realize how this affected my days. Everyday was a mental battle. I started to become anxious when I wasn't an anxious person before. And it wasn't long when my feeling of loneliness started to become a feeling of emptiness. I started being less productive. I often found myself spending more time in bed. I started to become tired more easily, and every little effort become exhausting for me. I sulked in desolation for too long that I knew that I have to pick myself up sooner or later. When Professor Ramos informed us on this assignment and made me realize that this was the perfect time to share my practice of self-care and independence. Around a year ago, I started a small list of things in my little planner that I can do with my issue as a new year's resolution. Things that I have thought hardly about so I can be sure that it will work, not stuff that I have done before; "Don't be afraid to get lunch alone, go to more movies by yourself, go to a concert by yourself, text less, try to make a few new friends." Little did I know that this list would have grown to something much bigger.
I have a huge knack for music and the arts. I like to collect vinyl records of albums I absolutely love and writing what I think about them on blogs and it's someway therapeutic when I talk about this passion I have. Blasting music in my car, dancing like an idiot and having a mini concert of my own is a ritual I do every single day. But the one thing I haven't done is to go to a concert by myself. The night of the 29th of September I went to a Soulection show by myself. Anyone would normally think; who goes to a concert alone? It's a very social event, people usually bring a friend or two with them, but I didn't. I enjoyed the event going by myself, and made a few friends along the way. As my birthday approached last November, I bought myself another ticket to one of my favorite bands of all time; Brockhampton. I braved my way through the rain and drove all the way to Los Angeles that night. Despite the weather I was able to get there early enough and be in front of the sea of people at the venue. Half of the time I was being trampled by riotous fans and the show's energy was relentless. I moshed and had the probably the wildest night of my life. Another artist I'm a big fan of for a long time is Travis Scott. The biggest show I went to last year was his very psychedelic ASTROWORLD tour at The Forum Venue in LA.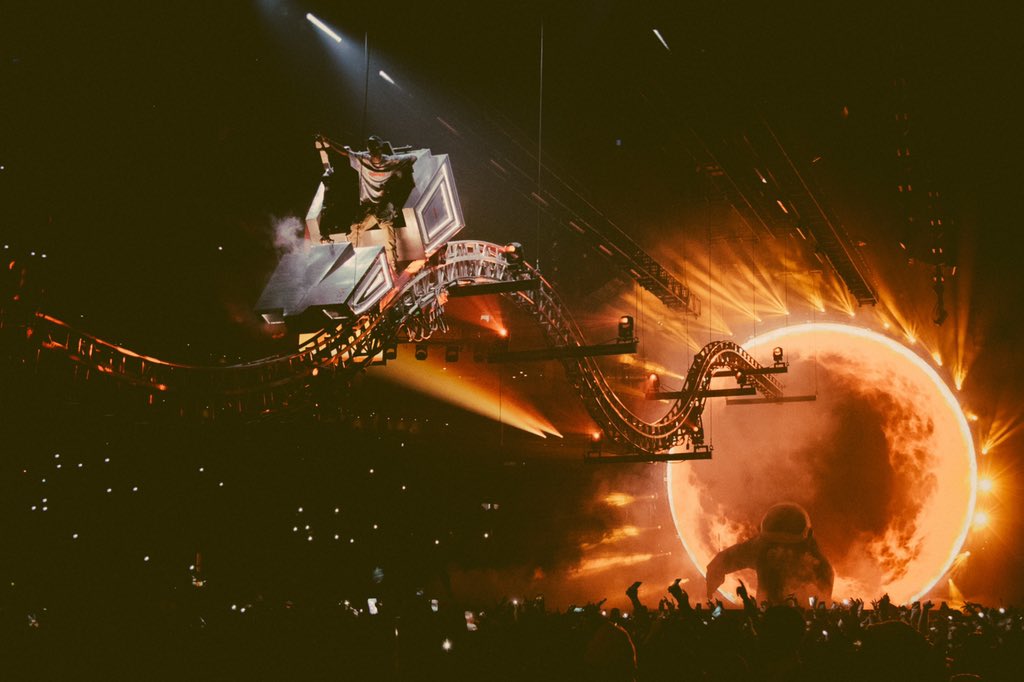 Scott utilizes dreamy visuals and a literal roller coaster contraption to fit the theme of his album. ASTROWORLD used to be an amusement park in Houston, Texas back in the 90's when it was demolished to acquire more space for apartment homes. Scott pays tribute to this park with his latest album of the same name, and rides a literal roller coaster during his performances inside every venue when he was on tour. It sounds bizarre but it is as crazy as it sounds. I went with friends this time around but for some reason, the energy wasn't the same with them. They were definitely not on my level when it comes to live shows. I had a feeling they weren't much of a Travis Scott as much as I was and it's somehow frustrating when I was enjoying myself more than they were. They insisted to get seat tickets to such an explosive artist and I think that takes away from the full experience. At that point I realize that I think anyone can enjoy something by themselves as long as they truly genuinely love it. I have this deep passion and liking with the music I listen to because I believe it is medicine for the soul, it's amazing what it can do to your mental. Music heals.
I took an Interpersonal Communications class last Spring term and I vaguely remember what my professor taught us that could've help me in this personal issue. I have read on a blog somewhere in the subject of Emotional Intelligence; "the capacity to be aware of, control, and express one's emotions, and to handle interpersonal relationships judiciously and empathetically." It is very important to know what you are feeling and how to handle/express it for yourself. Today's generation has a very sensitive stigma when it comes to the term "mental illness". I am aware of the fact that it is a serious issue that plagues many but at the same time, the term gets thrown around aimlessly, without knowing the further extents of it. I believe I was in the brink of depression but I persevered. I was more in a mental battle rather than a mental illness. I didn't consider myself "ill" but I related to those who did. I wasn't diagnosed with anything, and I had to do something to prevent that from happening.
I am a big fan of film and cinema. A trip to the movies by myself has lately been a frequent. It all started on the premiere of Ant-man, when all of my friends were busy and decided to go by myself. My family thought it was weird that I go by myself but if you think about it, the movies is one of the only few places that makes sense to go alone to. If someone were to ask my what a good idea for a first date is, I would say "Anything but the movies." You literally cannot interact with your date while a movie is playing. It's the worst date ever. Maybe a friend? Yes. But a date? No. That's why it really makes sense to go alone to the movies, especially if you like art in film like myself. Just this weekend I went to go see Glass by myself just because my parents are on vacation right now. I do my best of keeping myself company when no one is around and having the house to myself.
I often found myself texting people a lot. I implemented a change in less screen time and more face-to-face interactions. If I was socially dependent in my relationships perhaps a stronger foundation for socializing skills might help? Social media is somehow a weird outlet for me. I often voice my thoughts on the internet, in a form of a tweet. I realize that I get into a lot of meaningful conversations on a screen rather than in person. I started paying attention more to the people I come across to rather than people I'd rather see. I started living in the present, not making plans over texts and worrying about what people are up to in social media.
One of my main goals in general is to better myself everyday, and I think that's the ultimate "literacy narrative" that I haven't finished, but that I am constantly learning. The practice of self-care and then to self-improvement. And I believe the culmination of those things is what leads to self-love. For the past several months, I started to become more productive, doing more, waking up early, getting things done in time. Little things like, drinking more water, exercising, developing healthy habits that will help me overtime. Things that will make me feel like I am catching up with life will eventually lead me to really catching up with life because right now, I feel like I am behind. I am currently trying to get to get accepted at a program here in Chaffey and that is current my stressor at the moment. I still get anxious all the time and stress often builds up but I manage it better everyday. My faith grows stronger everyday. I started to do more in order to feel less. And at the end of the year, I managed to all those things I listed for my new year's resolution and more. I could never be more proud of myself.