Energy is power derived from physical or chemical resources, especially to provide light and heat or to work machines it is vital for most people to live their daily lives. It has been important to many on the planet for millennia. Since the beginning of time humans have discovered their abilities and capabilities without technology starting with only the foundation of natural resources. Natural resources in the past was all the world had wood, wind, water, and sun power have been used for cooking, heating, milling, and other tasks for millennia (Kovarik) but have damaged the natural environment worse than ever before with the petroleum, natural gas ,and coal that are damaging. After humankind had developed enough, we chose to use these natural resources less and less due to the discovery of industrial energy without thinking of the consequences. These natural and healthy forms of practical sustainable energy were replaced by fossil fuels such as coal and petroleum which damage the earth by releasing large amounts of CO2 and changing the environmental atmosphere. According to Quashning "energy must be produced from a much smaller amount of primary energy, thus reducing carbon dioxide emissions" which renewable energy achieves. At this time in the world attention has refocused back onto renewable energy sources because of concerns over fossil fuel depletion, but also because of acid rain and apprehension over global warming from the accumulation of carbon dioxide in the atmosphere (Kovarik). Young and Adult people have become educated and more apprehensive of the treatment of our Earth. The author Turner realizes that at the rate that we use oil and fossil fuels from the earth. "we cannot continue to burn fossil fuels and somehow sequester the produced CO2 efficiently enough to actually address global warming."(Turner) With the growing population of people who want to see a positive change in the environment of our Earth many people wonder if there is " a sustainable energy system that can supply a growing population with energy without destroying the environment within which it is used, providing energy for the present without compromising the ability of future generations to meet their needs."(Turner 1) 
Renewable energy is the cleanest, less damaging form of getting energy, it combines the natural process with modern technology for environmentally friendly sources of energy. These renewable methods of producing energy decreases the amount of future pollution or climate change by using replenishable sources instead industrial operated processes cause harm by using finite resources such as coal or oil. These clean energy sources are non-pollutant, produce minimal or no waste products, and don't contribute to global warming. As well as not contributing to global warming these clean energy sources are lower maintenance than regular industrial fossil fuel ran generators and less expensive to build. Another great fact about renewable energy is that it can be used uninterrupted because the process runs off the natural cycles that are always present. This energy emits less methane and solid waste energy which is an efficient use of waste. Industrial energy ran off petroleum, gases, other fossil fuels are created with generators that create unnecessary waste when instead we could use energy storage systems that create limited waste that can be controlled and use all biomass waste to reduce waste. "It has become impossible to ignore the challenge of climate change given the magnitude of evidence, and society is more focused on climate change mitigation" (Bogdanov ,etal) which increases popularity of renewable energy. It is said that Americas co2 emissions and global warming were found out and we just continued the damage to our home planet earth this is like if someone who was a smoker found out they had heart disease and continued to smoke as well as take up running. When the case of pollution is already so bad the focus would be to fix it. There is no known process that can clear our lungs as we are smoking so alternative lifestyle choices should be incorporated like not smoking or using renewable energy instead of fossil fuels which are the equivalent of smoking to a body but instead it is happening to our only planet. There are about six main processes of collecting renewable resources they are photovoltaics, solar thermal, wind, biomass, hydroelectric, ocean, and geothermal. These processes can begin to bring sustainability to our environment's health because the whole world has these processes that when used correctly contribute to the collection of clean energy. 
If the sun is always shining, water is always flowing, wind is blowing, and weather is always present the renewable energy systems should never fail providing the continuity of good climate. The sun is going to keep shining that means solar energy by using solar panels is renewable and sustainable. Moving water and strong winds will continue to supply constant source of energy a multiple function renewable source of energy is wind and many more "Wind energy represents the nearest term cost-competitive renewable energy source. Produced by the heating of Earth, wind as an energy resource is possible over the entire United States" (Turner). The use of wind energy through windmills can be multifunction by having land occupied by windmills, a farm, and other energy systems on the same land. "Energy resource is possible over the entire United States and presents a dual-use technology: The land can still be used for farming, ranching, and forestry." (Turner) A quality these energy types have is reliability of functioning as well as moving forward in the future this renewable energy creates a whole new broad spectrum of careers and new findings for the Earth's climate change. Once these natural systems are constructed and in process, they keep themselves up and running due to the natural energy sources that function along with natural cycles. Other than helping the environment if a whole state or the country begins using renewable energy the economy can be improved as well. It is well known that the increase or decrease in supply of fossil fuels has a direct result on the economy. On the other hand, the cost of producing energy from renewable energy sources is dependent on the amount of money that has been spent on the infrastructure and not on the inflated cost of natural resource. The United States is the largest user of energy in the world and this will only increase with time which means that if we begin to make a positive change others parts of the world will follow suit and reduce the harm caused to the planet by emission of co2 and coal, biofuels, etc. that the industrial world produce. 
Several counter arguments for these points in favor of renewable energy can be that you cannot predict the weather, that the development costs are too pricy, the renewable resources cannot power in large quantities , and that it cannot be available in all areas of the world due to  not having a large enough area for constructing these natural energy sources. Intermittency of the climate is present all around the world so no the weather cannot be predicted in all places but there is an certain expected amount of rain ,sunlight, wind ,or other elements that can be gathered contributing to helping global warming and fulfilling the amount of energy that is needed by the people. These renewable energy systems and sites are argued to be too costly to develop and maintain but in the long run these clean energy collection types have a lower overall cost balancing the price of implementation the article Radical transformation pathways toward sustainable electricity via evolutionary steps says that "The falling costs of renewable electricity generation and supporting storage technologies will be the driving force of the energy transition: solar PV has already become the least cost energy source in many regions of the world".   (Bogdanov, Etal 30) After the systems are built there is not much upkeep with the process the machines never have to move and will collect energy / maintain itself up and running lessening repair costs that normal generators require. For example, when fossil fuels run dry in certain locations the entire process must be moved to collect more fuels this outdated way of collecting energy creates waste and ruins areas of land that must be dug up to release fossil fuels. Many people argue that there is no way to know the amount of energy collected will be enough to support the community with their desired amount of energy use, but these machines are made to convert natural cycles into constant permanent origins of power that can save in banks to sustain our power use and planet. Most places say they do not have enough area space to construct these natural energy sources, but they can be added onto existing buildings farms, and open lands. Not much space is needed to incorporate renewable energy for example solar panels, ocean energy by using hydroelectric wave energy and small wind farms can be included in micro stations that produce as much energy as fossil fuel energy and there is not a finite amount of these sources like oil and fossil fuels.. 
It is in the best interest of humans to incorporate these renewable energy resources into our lives the sooner the better all in hopes of keeping up with the diminution of global warming of our planet due to the industrial world. The more effort humans make to stop using biofuels, petroleum, coal, gases, other toxic wastes for energy and use renewable energy systems instead the better our environment will become. The energy demand of all continents is different because of this some countries may not believe it is a grand issue but all together we have an effect of the circumstances of our atmospheric conditions of the Earth. If we continue to gather energy the way it has been done since the industrial revolution the world will never see a change in the amount of contamination released because the situation will become worse without soon intervention.It has recently been discovered that we have about 12 years to change the course of global warming.According to author Quaschning "Renewable energies will be the key to this development, because they are the only option that can cover the energy demand of Earth in a climatically sustainable way". The industrial worlds manner of collecting energy damages the globe by releasing greenhouse gas that causes temperatures to rise changing the atmosphere. It also affects our earth's lithosphere all the way down to the core by fracking a method that creates cracks in deep rock in order to free energy that is petroleum and other natural gases changing the Earth by creating acid rain. Author Kovarik says that "Acid rain is clearly the result of the use of fossil fuels, and most authoritative climatologists also believe that these fuels are contributing to global warming. Many scientists and environmentalists have, therefore, urged a global switch to renewable energy, which derives from the sun". Solar, wind, biomass, hydropower, ocean, and geothermal renewable resources are derived from the Earth cycles itself and completely reduces the environmental footprint that is left behind. Natural energy conversions are meant to create a sustainable course of action to produce energy in the best interest of the Earth unlike the processes in place already that use foreign oils instead of clean natural energy.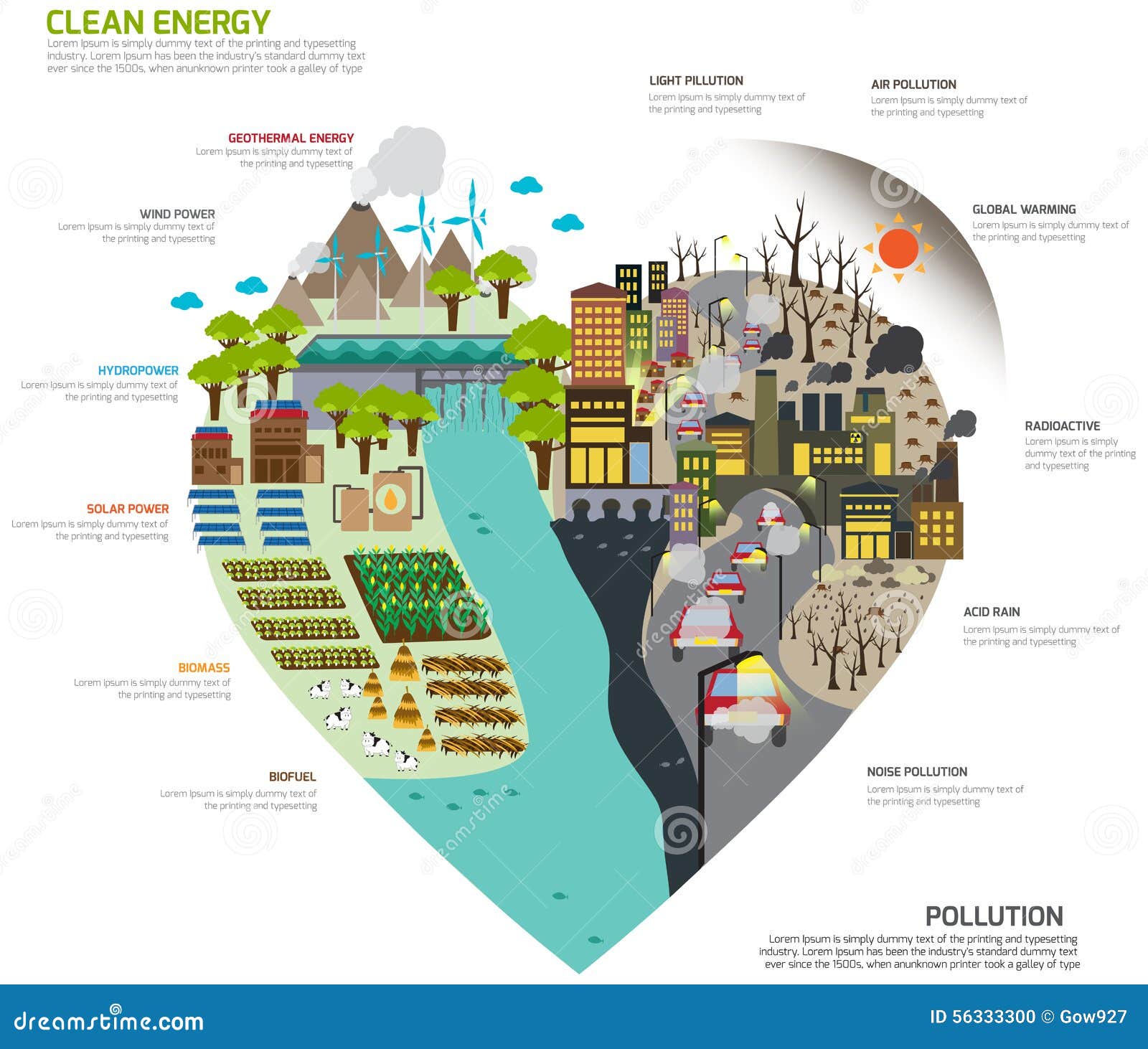 In conclusion , the idea of renewable energy is not something out of this world that couldn't be obtainable. It is essentially the oldest way of getting and using resources for energy that has been incorporated into our lives from the beginning of time but modernly adapted to the technology and quota of today. Water, Wind, Solar and other energy didn't need to be replaced for fossil energy because there is no negative effects with using the natural elements. Only now it is modernized to be done by machines that can do the process environmentally clean and efficiently. Today people finally care and are educated about the earth enough to take action of making positive changes that can be added to the way we live by using renewable energy. Anywhere that can begin using these sources of energy rather than continuing the damage of the planet with pollutant emissions can make a positive difference for environment. The use of renewable energy sources is about how in the end the green systems function just as good as the industrialized worlds energy constructive changes in the environment will begin to be seen the more that clean natural energy conversions are used to collect most of the energy used around the world. 
Work Cited
Bogdanov, Dmitrii,  Etal. "Radical Transformation Pathway towards Sustainable Electricity via Evolutionary Steps." Www, 2019, www-nature-com.chaffey.idm.oclc.org/articles/s41467-019-08855-1. 
Kovarik, Bill. "Energy, Renewable." Dictionary of American History, edited by Stanley I. Kutler, 3rd ed., vol. 3, Charles Scribner's Sons, 2003, pp. 214-215. Gale eBooks, https://link-gale-com.chaffey.idm.oclc.org/apps/doc/CX3401801380/GVRL?u=ranc95197&sid=GVRL&xid=a92f67af. Accessed 25 Sept. 2019. 
Liu, Bo, and Deepak Rajagopal. "Life-Cycle Energy and Climate Benefits of Energy Recovery from Wastes and Biomass Residues in the United States." Www, 2019, www-nature-com.chaffey.idm.oclc.org/articles/s41560-019-0430-2. 
Quaschning, Volker. Understanding renewable energy systems. Routledge, 2016. 
"Sector Overview: Renewable Energy Generation." From Green Industries to Green Jobs, edited by Miranda H. Ferrara and Michele P. LaMeau, Gale, 2012, pp. 285-286. Gale eBooks, https://link-gale-com.chaffey.idm.oclc.org/apps/doc/CX4020600079/GVRL?u=ranc95197&sid=GVRL&xid=19fccec5. Accessed 25 Sept. 2019. 
Turner, John A. "A realizable renewable energy future." Science 285.5428 (1999): 687-689.